Recipe of Crispy Fried Curry Chicken (My Yellow Table)
TweeterfacebookGoogle PlusRedditEmail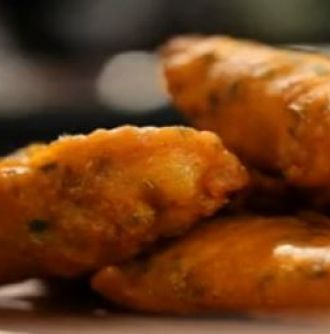 Juicy, succulent chicken breasts are cut length-wise, marinated in aromatic masala and batter fried till crispy perfection.
Ingredients
4 chicken breasts
1 tsp saunf
1 tsp jeera
2 tsp ginger-garlic paste
1 tsp red chilli powder
1 tsp dhaniya powder
1 tsp turmeric powder
1 tsp black pepper
1 lemon
4 garlic cloves
5 stems of curry leaves
1/2 cup refined flour
1/2 cup rice flour
Add 1 cup soda
250 ml oil
100 gms mayonnaise
1 Tbsp tomato puree
A stem of coriander
Pinch of salt
How to Make Crispy Fried Curry Chicken (My Yellow Table)
Cut 4 chicken breasts in length.
Add pounded jeera, saunf, ginger-garlic paste, red chilli powder, dhaniya powder, turmeric powder, lemon juice, black pepper to the chicken, mix well.
Now, add chopped garlic and curry leaves to it.
Add refined flour and rice flour to the bowl.
Add pounded saunf, jeera , salt, red chilli powder, turmeric powder, dhaniya powder and mix well.
Add soda .
Add Oil to a pan.
Dip chicken pieces in batter and deep fry.

For Dip
Add tomato puree, black pepper, garlic cloves, chopped coriander to mayonnaise.
Mix well.
Key Ingredients: chicken, chicken breast, salt, coriander leaves, tomato, mayonnaise, oil, soda, rice, rice flour, refined flour, curry leaves, garlic, turmeric, lemon, black pepper, coriander powder, red chilli, fennel, cumin seeds